AOAT provides many opportunities for students to explore their community by participating in: museum field trips, community volunteering, student showcases and competitions, and career and college campus tours. On-campus enrichment opportunities include: peer and professional mentoring, academy social events, Career Day, and career and college exploration workshops.
AOAT Ambassadors
AOAT Ambassadors are students who have shown strong leadership skills and are selected to showcase the Academy on numerous occasions. Ambassadors have presented at: the Educating for Careers Conference in Long Beach, LAUSD CTE Showcase, Back to School Night, Open House, Cleveland High School Virtual Tours, CDE's Distinguished Academy Visit, and they have also hosted the Media Communications Academy from Sacramento.
AOAT Award Ceremony
Annual award ceremony that celebrates student achievements and includes the Giving Circles' Senior Scholarship. Our ongoing partnership has awarded 12th grade students over $40,000 in financial assistance for college tuition and supplies.
Art Club
Art Club is sponsored by AOAT and open to all Cleveland students. Students participate in various campus activities and fundraisers. It's a student run organization that focuses on art making activities, such as: designing and screen printing t-shirts and sweaters, and building the annual Homecoming parade float, which has won the first place trophy numerous times.
Business Partnerships
Business, community and post-secondary partners assist and advise AOAT students throughout the year in various hands-on activities, such as: college and career workshops, mentoring, mock interviews, resume workshops, and professional feedback on student projects.
Career Day
An annual Career Day event brings Art, Media and Entertainment professionals to speak on their respective career paths and achievements in the industry. Speakers vary each year and have included: MOCA, Getty Images, Nickelodeon, Verizon, LA Metro and Cool Beans Comedy.
Career Exploration
Career Exploration workshops acquaint students with the vast number of career possibilities and 4th Industrial Revolution skills. In workshops, occasionally led by business partners, students explore their own career interests and possible paths. The workshops culminate with a visit to Arts, Media and Entertainment business sites affording students the opportunity to meet and hear from professionals in the workplace.
College Exploration
Students explore the many post-secondary academic options available to them. In college exploration workshops, students research different institutions that offer programs aligned to their interests and goals. The AOAT counselor leads financial aid workshops, reviews transcripts, and assists students with filling out their FASFA and college applications. Each grade level visits multiple institutes each year, which have included: UC Santa Barbara, Santa Barbara City College, UCLA, USC, Santa Monica College, Cal State LA, CSUN, Pierce College, Art Center, Cal State Channel Islands and Moorpark College.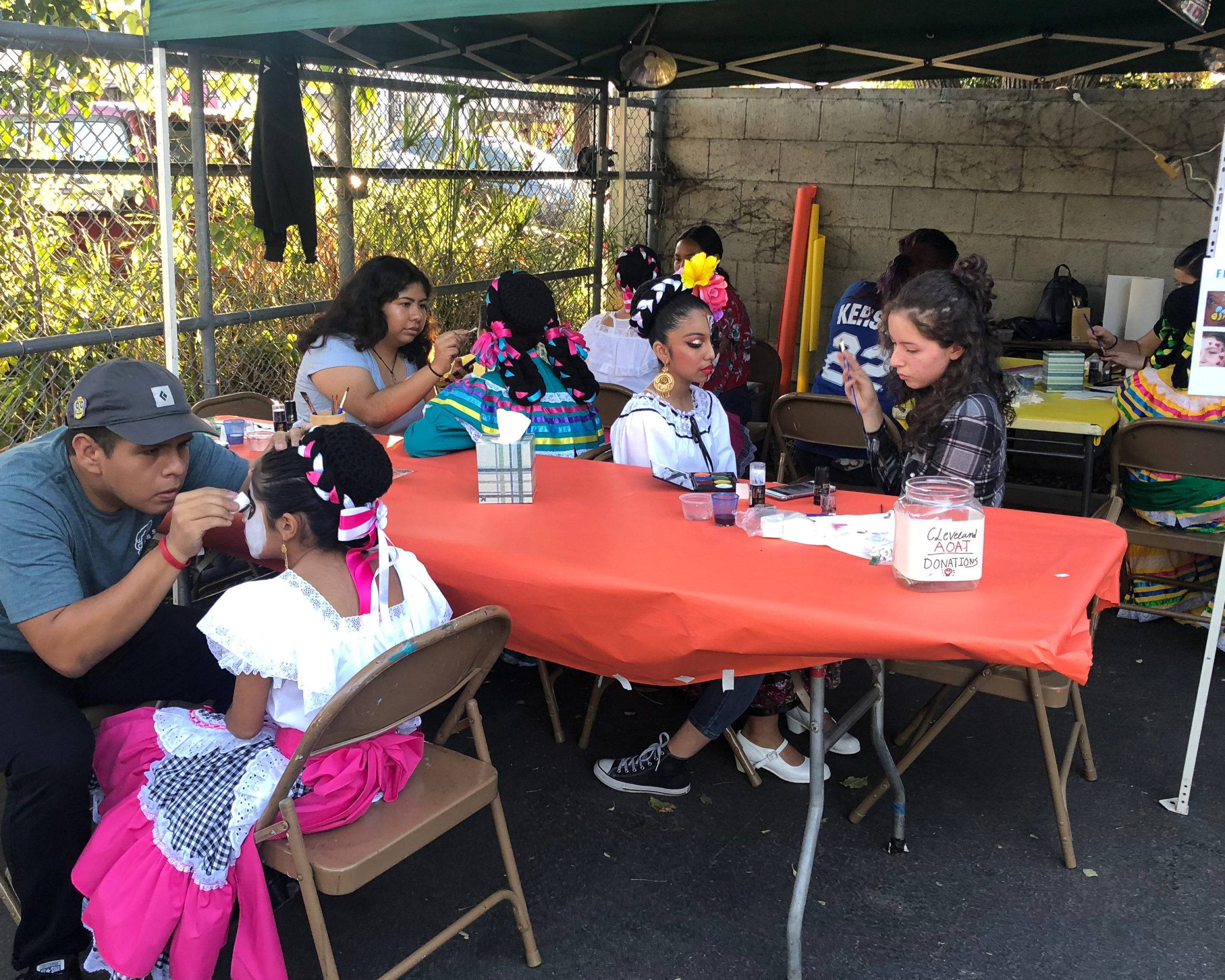 Community Volunteering
Students volunteer at the Canoga Park Art Center annual Day of the Dead Festival where they participate in facepainting and other art activities. In their Biology classes, students have volunteered in beach clean up with Heal the Bay and removed non-native plants and replaced them with plants native to Southern California at Solstice Canyon.
Mentoring
The Peer Mentor program offers freshmen and sophomores an opportunity to be peer mentored by juniors and seniors. The mentors provide academic assistance along with social emotional support, which helps to foster a community spirit within the academy. Additionally, AOAT students offer mentoring to Art Media Entertainment and Music (AMEM) academy students from Northridge Middle School. Many of our business partners share their expertise through mentoring to 11th and 12th grade students. Our future plans include a monthly mentoring program with our growing community of business partners.
Museum Field Trips
AOAT's continuing partnership with several museums around Los Angeles provides students with the opportunity to visit and participate in docent led tours and curriculum geared towards interdisciplinary projects. Museums include: MOCA, the Getty, LACMA, Museum of Tolerance, Holocaust Museum, The Annenberg Space for Photography, and The Marciano Art Foundation.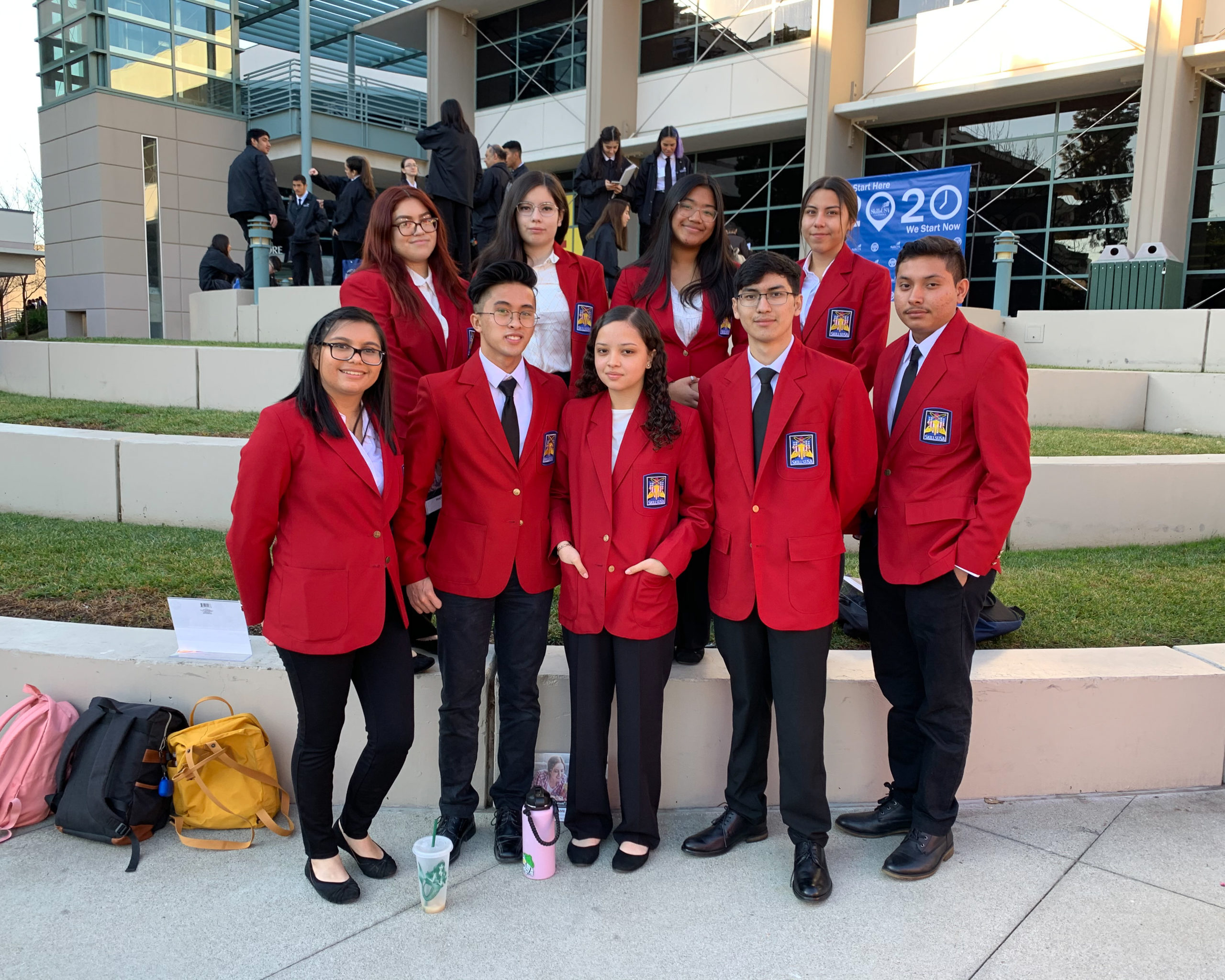 SkillsUSA
SkillsUSA is a non-profit organization that partners with students, teachers and industry professionals to prepare students for the workforce. Students participate in industry specific competitions that include personal, workplace, and technical skills. SkillsUSA is offered to all AOAT students who are mentored by industry professionals and graphic design teachers.
Social Events
Throughout the school year, several social events are hosted to encourage bonding in the AOAT community. These events have included: AOAT Senior BBQ, Loteria Ice Cream Social, Back to School Nacho Bar Social, and the Healthy Food Potluck.
Workshops
AOAT provides numerous workshops throughout the year in all grade levels. Professionals from various industries share their expertise with students. These workshops include: Girls Build LA,
College Research, Financial Aid, JA Financial Park, Packaging Design, Career Exploration, and Interview Readiness.
Follow us on Instagram: @the_aoat !
Gabriela Rosillo
Coordinator & Internship Seminar Teacher
(818) 885-2300
gabriela.rosillo@lausd.net
Cindy Duong
Principal
Grover Cleveland Charter HS
(818) 885-2300
cindy.duong@lausd.net